Published by
NHS Scotland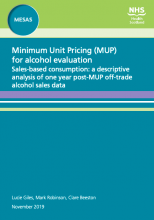 The rise in alcohol consumption and alcohol-related harms in the UK in recent decades has gone hand in hand with the increasing affordability of alcoholic beverages. 
Minimum Unit Pricing (setting a minimum price below which a unit of alcohol cannot legally be sold) was approved by the Scottish Parliament in 2012.
This report provides an analysis of off-trade alcohol sales data for the 12-month period since the implementation of minimum unit pricing (MUP) in Scotland.
The report, written by NHS Scotland, provides a descriptive analysis of the:
The volume of pure alcohol sold per adult in Scotland both before and after MUP was implemented
The percentage change in per-adult alcohol sales over time
The change in the average price per unit of alcohol sold.
We have provided comparisons over time and with England & Wales, where the legislation was not implemented.
Citation
Giles L, Robinson M and Beeston C. Minimum Unit Pricing (MUP) Evaluation. Sales-based consumption: a descriptive analysis of one year post-MUP off-trade alcohol sales data. Edinburgh: NHS Health Scotland; 2019.