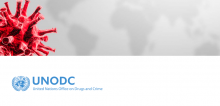 Close to 11 million prisoners worldwide — as well as the officers who are charged with ensuring their safe, secure and humane custody — must not be forgotten during the COVID-19 pandemic.
Countries should recognize the particular risks which COVID-19 and the virus that causes it to pose to confined populations for which physical distancing is not an option.
This position paper, published by UNODC, outlines the importance of a controlled response to COVID-19 in prisons in order to reduce the potential harm it may cause to this particularly vulnerable group.