Published by
WHO Regional Office for Europe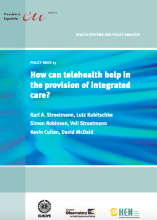 The World Health Organisation defines telehealth as:
The use of telecommunications and virtual technology to deliver health care outside of traditional health-care facilities.
Well-designed telehealth schemes can improve health care access and outcomes, particularly for chronic disease treatment and for vulnerable groups. 
During this particular time, where movement and face to face contact between patient and practitioner is restricted, used effectively, telehealth can help people receive the care they need without putting them in further danger.
This publication defines telehealth and suggests ways that it can be implemented to support clinical practice. It includes several examples of when telehealth has been applied effectively in countries accross Europe.