Published by
Australian Institute of Health and Welfare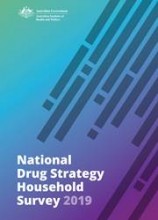 Summary
Tobacco, alcohol and illicit drug use can place a heavy burden on individuals, families and society. The health,
social and economic effects are diverse and substantial, and include disease and injury, mental health
conditions, road accidents, family and domestic violence, and other crime.
This report presents key results from the 2019 National Drug Strategy Household Survey. It looks at people's
drug use throughout their lives and during the last 12 months, and examines how these patterns have
changed over time. It also asks people for their opinions on a range of initiatives designed to reduce the
harm caused by tobacco, alcohol and illicit drug use, and for the first time provides perspectives on emerging
initiatives, such as the availability of pill and other drug testing for potential drug users.
Key Findings
fewer Australians are smoking tobacco daily, while the use of e-cigarettes is increasing
more Australians are giving up or reducing their alcohol intake, driven by health concerns 
rates of substance use are falling among younger generations (less likely to smoke, drink and use illicit drugs)
non-medical pharmaceutical use is down, driven by a fall in the use of pain-killers.