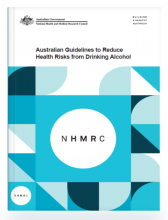 The guidelines provide health professionals, policy makers and the Australian community with evidence-based advice on the health effects of drinking alcohol.
The guidelines aim to help individuals make informed decisions about drinking alcohol.
The guidelines are also intended to form the evidence base for policy making and educational materials.
The guidelines can be accessed in a PDF documents here. 
NHMRC also uses an electronic approach for publishing guidelines. For these guidelines, the recommendations and evidence base are presented in the online platform MAGICapp.