Published by
New Zealand Drug Foundation Report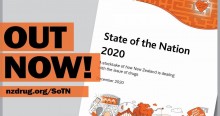 The third edition of NZ Drug Foundation annual report on how New Zealand is dealing with alcohol and other drugs was published in December 2020.
The aim of State of the Nation is to provide a backdrop against which we can assess the impact of any policy changes. 
The 2020 report is designed to provide a benchmark to assess whether recent reforms are delivering on their promises.
Rates of harmful alcohol use remain of concern in New Zealand, and cannabis use is rising - but tobacco use is going down. Methamphetamine use remained relatively steady across the population as a whole last year, though huge increases in border seizures in 2019 were cause for concern. It's also noteworthy that waste-water testing showed a substantial increase in the quantity of MDMA consumed in New Zealand during 2019.