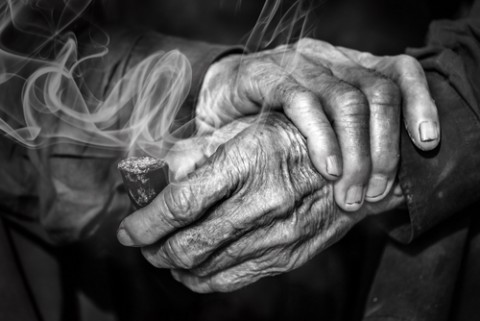 Tobacco use is the primary risk factor common to the four main groups of non-communicable diseases— cardiovascular disease, cancer, chronic lung disease and diabetes (NCD Alliance).
Figures gathered from the Egypt Global Adult Tobacco Survey (2009) show that Egypt is listed as one of the top ten per capita consumers of tobacco. 
Despite being particularly vulnerable to damage from tobacco use, there is a particularly high prevalence of smoking amongst older adults in Egypt.
The aim of this study was to investigate how many older adults in Egypt use tobacco in its different forms.
This cross-sectional study was carried out in Mansoura District (both urban and rural areas). 
Information was gathered through interviews carried out by nurses linked to the local health institution.
Results from the research found that:
The prevalence of active current tobacco smoking among participants was 25.3%,
The prevalence of passive smoking was 37.1%, while
6.3% of the sample described themselves as ex-smokers.
Among active current smokers, nicotine dependence was 42.3%
23.3% had failed to quit smoking, while 30.3% had the intention to quit.
Being male, having low levels of education and religiosity, and urban residence were the independent predictors of current smoking.
Understanding which factors are mainly linked to smoking amongst this age group can help practitioners design interventions that specifically target older adults. 
Citation
Abdel-Hady, D., & El-Gilany, A. H. (2020). Tobacco use and its associated factors among older people: a community-based study in Egypt. Eastern Mediterranean Health Journal, 26(1), 68-74.