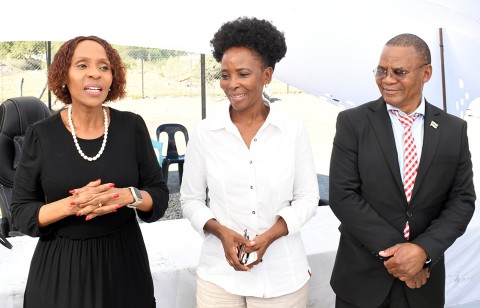 Vice President Slumber Tsogwane has commended First Lady Neo Masisi for her strong advocacy in the fight against drug abuse.
Speaking at a youth dialogue on drug use in Rakops on Wednesday 19th April, the Vice President said the journey embarked on by the First Lady meant that the war had been declared, therefore the onus was upon Batswana to play their part in the mission.
"The war has been declared, it is now upon us to adopt the David against Goliath attitude because one way or the other, we are all affected," he said.
Mr Tsogwane said it was undisputable that drug use had become prevalent throughout the country, therefore people should do away with the denial attitude and take action.
He encouraged those who used drugs to stop, adding there was no health benefit from such.
Mr Tsogwane further warned that drug use could and had destroyed lives, hence the need to stop now.
The Vice President, also Boteti West MP, advised drug addicts to seek help through counseling.
For her part, First Lady Masisi said her strong advocacy in HIV prevention, drug abuse and GBV was informed by the high numbers of people affected.
In the case of drug use, Ms Masisi said the country had for a long time set on a time bomb and now the bomb was exploding because drugs were found almost everywhere.
"Let us talk about this, let us pray, let us use available services such as psychiatric hospitals. We need to save this nation,"  she said.
Ms Masisi noted that families lived in agony of seeing their children's lives being destroyed.
She, therefore, pleaded with the youth to help save the country by leading in the fight against illicit drug use.
As for how young people got initiated into drug abuse, Gracious Mawano, a Form 3 pupil at Rakops Secondary School cited peer pressure and wanting to fit in.
She also talked about upbringing at home, where parents would use drugs in the presence of children.
The pupil further cited poverty, where parents would be earning a living through sale of drugs such as dagga, adding at some point children would be given the stuff and instructed to sell at school.
On the effects of drugs, Ms Thabiso Sam, a psychiatric nurse at Rakops clinic, said drug addicts generally never had a good judgement of things in life, for example she said such would even engage in unprotected sex without noticing.
She also highlighted that drugs may lead to severe mental health effects.
Giving an overview of drug use in Botswana, Assistant Superintendent Albert Mfanyana of Botswana Police - Narcotics Fauna and Flora Investigations Unit, said the most used were marijuana, cocaine and methcathinone, popularly known as cat.
He indicated that in 2022, the police recorded 1 254 cases of people selling marijuana, 257 cases of methcathinone and seven for cocaine dealing.
In Boteti, Mr Mfanyana said in 2021 they recorded 77 cases of marijuana dealing, with a weight of 31kg, while in 2022 the police arrested 17 people for selling marijuana, which weighed 2.6kg. Daily News