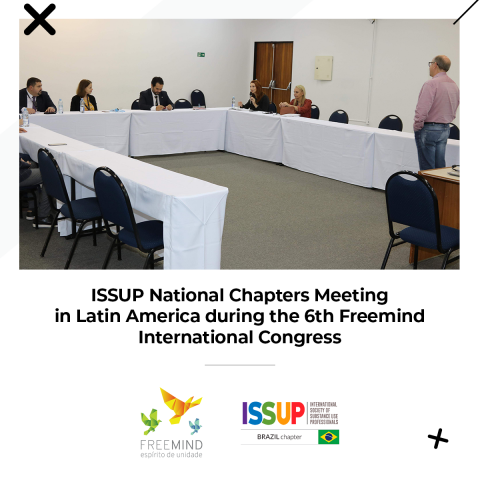 The 6th Freemind International Congress provided its participants with much information of important and relevant content, based on scientific evidence. There were 40 national speakers and 10 international speakers, 20 hours of international training, 30 hours of lectures, 25 hours of thematic panels and 12 hours of playful activities.
In addition, the Freemind Congress hosted important meetings, such as the Latin American National Chapters Meeting. This meeting was led by the National Chapter of Brazil at ISSUP, through its General Coordinator - Paulo Martelli.
Also attending the meeting were Livia Edegger - Deputy Director - ISSUP Global, Dr. Roberto Canay, representing the National Chapter of Argentina, Dr. Carolina Marty - National Chapter of Chile, Eric Siervo - Vice President of International Programs of the Community Anti-Drug Coalitions of America (CADCA), Dr. José Luis Vazquez-Martinez - OEA / CICAD, Dr. Quirino Cordeiro Junior - National Secretary for Drug Care and Prevention, Claudemir dos Santos - Technical Director and Specialist in Drug Prevention Drug Use - COED - SP, Dr. Livia Lopes - Advisor - National Secretariat for Drug Care and Care and Debora Moresco - SENAPRED General Prevention Coordinator.
It was a very productive meeting in which Livia Edegger presented on ISSUP Global and the role of National Chapters and Paulo Martelli shared ISSUP Brazil's plans for 2020. ISSUP Brazil also presented the Technical Cooperation Agreement between the National Secretariat for Drug Care and Prevention and ISSUP Brazil. The agreement serves as an example for a fruitful collaboration between an ISSUP National Chapter and the government.