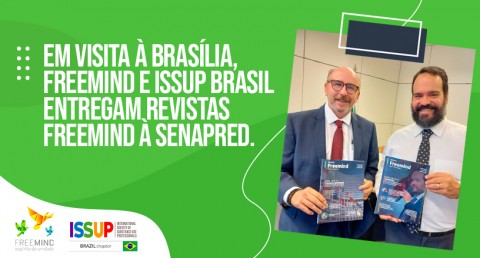 No último dia 24 de fevereiro, Paulo Martelli – Coordenador Nacional da Mobilização Freemind e Presidente da ISSUP Brasil, em visita à Secretaria Nacional de Cuidados e Prevenção às Drogas entregou ao Dr. Quirino Cordeiro Junior as duas últimas edições da Revista Freemind, lançadas no final do ano e 2020 e no início do ano de 2021.
A primeira edição já está disponível online no site do Freemind e pode ser acessada em http://bit.ly/3ecD6TN. Ela traz várias matérias sobre o Congresso Freemind de 2019, apresentando um pouco de tudo o que aconteceu no evento como um todo e também no I Encontro Nacional das Federações de Comunidades Terapêuticas do Brasil, evento que ocorreu em paralelo.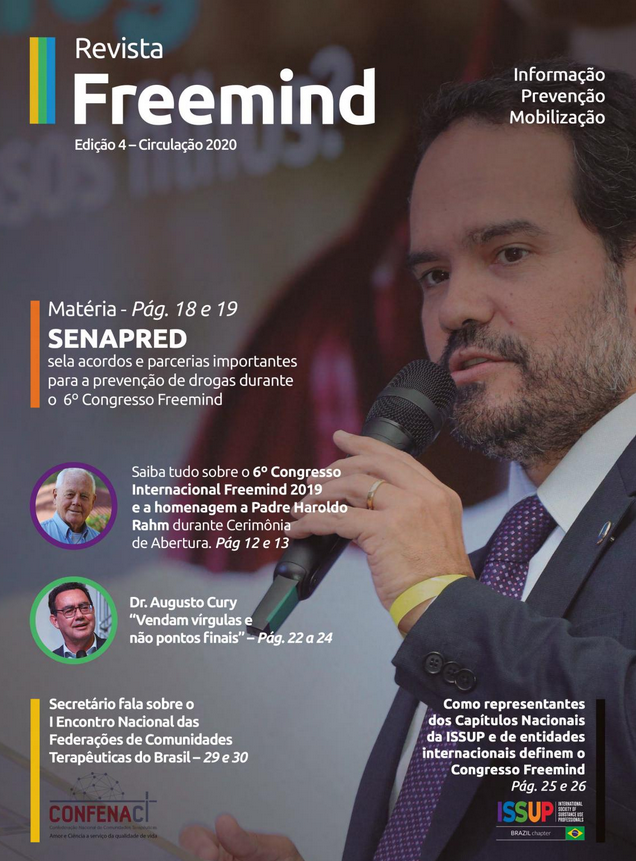 Outras matérias da Revista de 2021 são:  
Mitos e Verdades sobre a Cannabis;
Argumentos sobre a legalização da maconha;
O papel da escola e políticas públicas na prevenção;
Fortalecimento dos fatores protetores diante da vulnerabilidade frente ao avanço do uso indevido de drogas;
Qual o papel do Ministério Público na prevenção?;
O aumento dos cigarros eletrônicos e o restabelecimento da nicotina como um vício primário da juventude – Artigo Internacional do Dr. William Crano;
Dr. Augusto Cury: Vendam vírgulas e não pontos finais e Consequências da ingestão de álcool por gestantes.
Uma revista completa, com muita informação relevante baseada em evidências científicas disponível para download.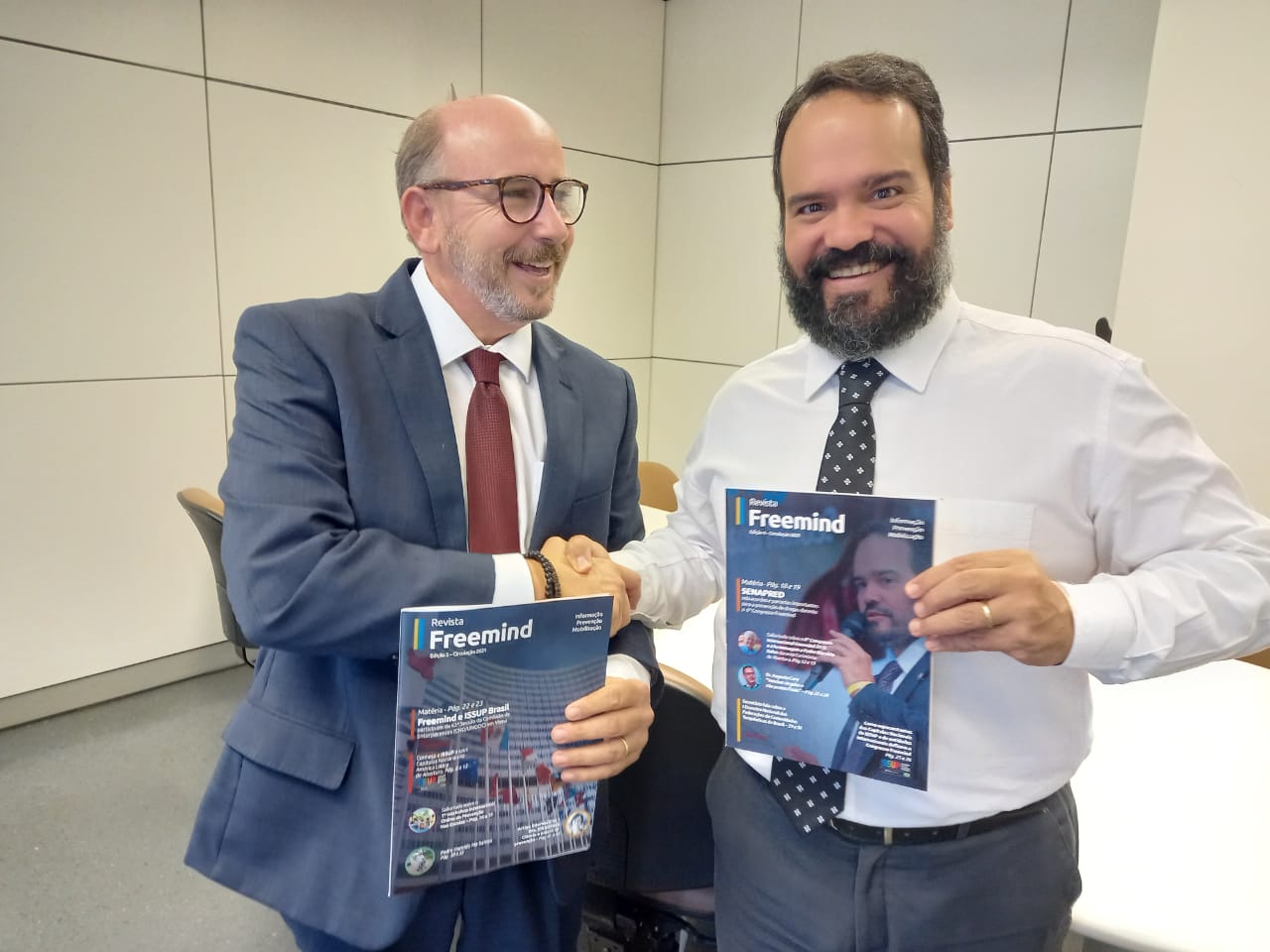 A Revista de 2021, que em breve estará disponível também para download no site do Freemind, traz vários artigos internacionais e nos dá um panorama de como as entidades que trabalham ações de prevenção ao redor do mundo enfrentaram a pandemia de COVID durante o ano de 2020 e deram prosseguimento em suas ações.
Esta edição traz tudo sobre como foi o 1º Workshop Internacional Online de Prevenção nas Escolas, com depoimentos dos treinadores e dos participantes e também relembra como foi a participação do Freemind e da ISSUP Brasil na 63ª Sessão da Comissão de Entorpecentes (CND) da UNODC – Escritório das Nações Unidas contra Drogas e Crimes, em Viena.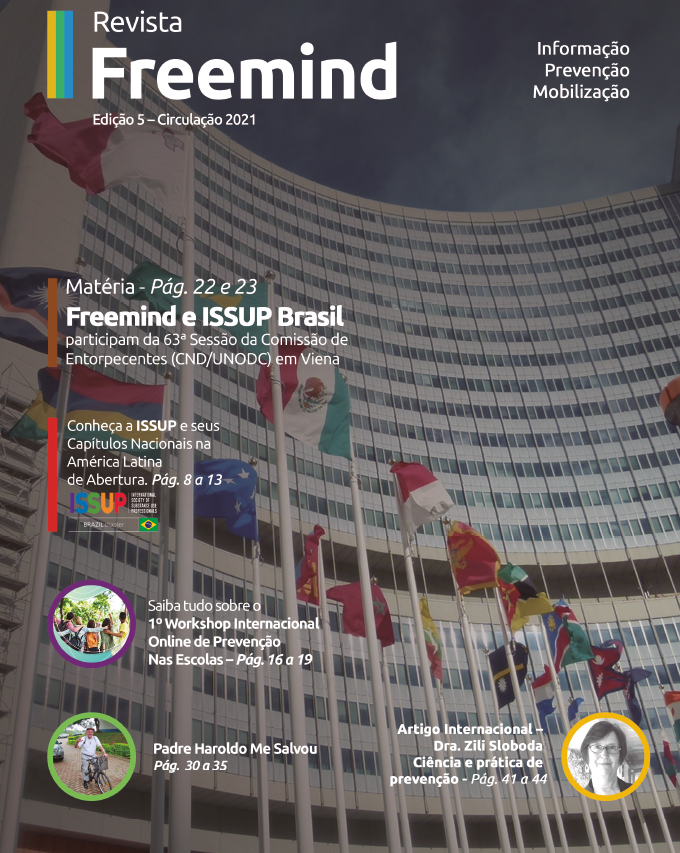 Conteúdo vasto e rico de nossos parceiros, como:
"O que é e o que faz a OEA/CICAD – Comissão Interamericana para o Controle do Abuso de Drogas da Organização dos Estados Americanos";
"Capítulos Nacionais da ISSUP – International Society of Substance Use Professionals – na América Latina";
"A diferença que os Capítulos Nacionais da ISSUP na Europa e no Oriente Médio têm feito";
"Usando a ambivalência para impedir o consumo de maconha por adolescentes" – Artigo internacional do Dr. Willliam Crano, da Claremont Graduate University;
"Conheça nossos parceiros: Quem é e o que faz o INL – Bureau of International Narcotics and Law Enforcement Affairs U.S. Department of State";
Artigo Internacional da Dra. Kimberly Johnson sobre o "Consórcio Internacional de Universidades para Redução da Demanda de Drogas – ICUDDR";
Artigo Internacional da Dra. Zili Sloboda, presidente da Apllied Prevention Science International sobre "Ciência e prática de Prevenção";
"Dr. Bartô e os Doutores da Saúde" e
"Programa Freemind: a Gestão da Emoção como prevenção de transtornos psicossociais" sobre as ferramentas Freemind do Dr. Augusto Cury.
Ainda nesta edição, um artigo sobre a SENAPRED: "As principais ações de uma Secretaria que vem dando respostas ao avanço de um mal avassalador: as drogas" e uma matéria emocionante sobre nosso inspirador Padre Haroldo: "Padre Haroldo salvou minha vida".
Acompanhe nossas redes sociais para ficar sabendo assim que esta edição estiver disponível para download.