Nairobi, Kenya,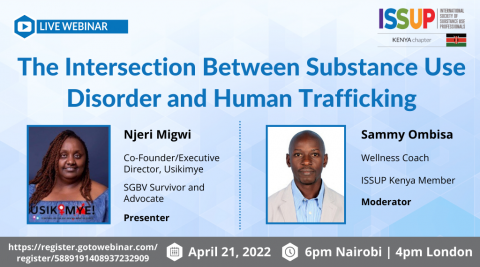 ISSUP Kenya would like to invite you to join their next Bi-Monthly Webinar on The Intersection Between Substance Use Disorder and Human Trafficking.
Time: 4PM UK Time | 6PM Kenya Time
This Webinar will discuss:
Nature of Substance Use Disorder
The connection between human trafficking and substance use disorder.

Recruitment through substance use: traffickers target individuals with existing SUD issues to recruit into a trafficking situation.

The indicators that assist in identifying exploitation and trafficking.
Interventions that could be used to assist in anti-trafficking efforts.

Substance misuse as a coping mechanism: Some victims of human trafficking may misuse substances as a response to the trauma of their trafficking victimization.
Safe Housing
Learning Outcomes:
To understand how substance use is exploited by traffickers as a business to leverage their crimes
To deliberate on existing and possible rescue interventions and their dynamics for TIPs (trafficked-in persons).
To examine and understand the risk and protective factors for/against drug use and SUD amongst TIPs.
To explore the policy framework and practices with respect to trafficking and drug use in Kenya in the context of TIPs. 
Presenter:
Njeri Migwi – Executive Director, Usikimye
Njeri Migwi is the co-founder of Usikimye. Njeri is a humanitarian multi-award winner. She is 2021's Human Rights Defender of the Year. She was 2020's Person of the Year and NGEC's 2020 Equality Champion, Kenya. She was recently shortlisted for Ms President – a leadership Under her leadership, Usikimye has won the Humanitarian of the Year Award, NABLA 2021 and Human Rights Organization of the year.
Usikimye is an organisation that deals with and for women and children who have been affected by Sexual and Gender Based Violence and Human Trafficking.
Usikimye ensures that survivors get accommodation, food, and psychosocial support for three months, before reintegration to society, they are assured not life skills and skill transference programs that ensure their financially security through their safe houses.
Usikimye also rescues survivors of Sexual violence and Trafficking in Person and facilitates their treatment, counselling, and well-being. In addition to having feeding program in Soweto, Kayole that caters to 4000 children a week and working to eradicate Sex for Pads by ensuring that girls have access to sanitary pads as well as SRHR and Life skill training.
Usikimye also runs a mobile library for children.
Moderator:
Sammy Ombisa – Wellness Coach
Sammy is a certified wellness coach and works as a wellness consultant in both Kenya and Tanzania. He is a member of ISSUP Kenya and serves underserved communities in SUD treatment and prevention in Nairobi. He is also active in providing mental health education to sports teams and bodies in East Africa.

Webinars and online events delivered and hosted by the International Society of Substance Use Professionals (ISSUP) are provided for informational purposes only. They are educational in nature and do not constitute medical advice, diagnosis or treatment.