Beirut, Lebanon,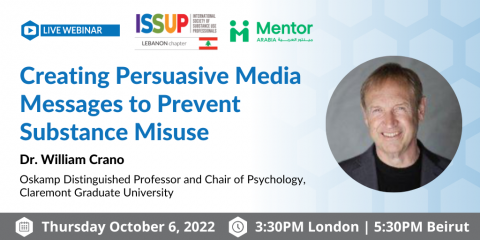 ISSUP Lebanon would like to invite you their upcoming Webinar on Using Media to Prevent Risky Substance Use.
Time: 7:30AM Pacific Time / 3:30PM London / 5:30PM Beirut
Media-based campaigns designed to discourage use of psychotropics substances have not fared well. Failures of expensive, large-scale, wide-ranging campaigns have given rise to doubts among policymakers about the media's effectiveness in prevention, and research does little to assuage these doubts. The European Monitoring Center for Drugs and Drug Addiction (EMCDDA) recently reported that more than one-third of the 30 EMCDDA constituents have cancelled or cut back mass media prevention campaigns. Given media's variable record, questions of utility and advisability may appear well founded. However, the origins of the media's apparent futility as instruments of prevention often have been misidentified. It is not the media that have failed, but rather the messages the media have been made to convey. Judgments of the media as ineffectual purveyors of preventive information are premature if the information they deliver is not persuasive. The focus on persuasion in prevention is intentional, because successful prevention almost inevitably involves persuasion, and persuasion always involves the attempt to overcome receivers' resistance to the persuasive appeal. In this presentation, I propose using a model of persuasive preventive communications, based on a half-century of scientific research. The EQUIP model, as it is termed, materially enhances the effectiveness of media-based prevention campaigns. It requires the developer to create messages that Engage, Question, Undermine, Inform, and ultimately Persuade. In this presentation, EQUIP's parameters will be discussed, as will the model's utility for preventing psychotropic substance use.
Learning Outcomes:
To provide an overview of media and their use in substance use prevention campaigns
To facilitate understanding of how to develop theory-based persuasion anti-drug media campaigns
To provide a framework to enable attendees to develop their own effective, evidence-based media campaigns to prevent substance use
Presenter:
Dr. William Crano is the Oskamp Distinguished Professor and Chair of Psychology at Claremont Graduate University. His work has focused principally on research methodology and persuasion, most recently on the development of models of social influence in drug prevention. His field work was supported for 20+ years by the U.S. National Institute on Drug Abuse. It is concerned with the application of principles of persuasion in preventing drug misuse in children and adolescents. He was founder and director of the Center for Evaluation and Assessment at Michigan State University, directed the Public Policy Resources Laboratory of Texas A&M University and was Head of the Department of Communication at the University of Arizona. Outside the academy, he served as the Program Director in Social Psychology for the National Science Foundation, as Liaison Scientist for the Office of Naval Research, London, as NATO Senior Scientist, University of Southampton, and was a Fulbright Fellow to the Federal University in Porto Alegre, Brazil. He has written/edited 22 books, more than 50 book chapters, and more than 400 scholarly articles and scientific presentations. He is the past chairman of the Society for Experimental Social Psychology, and is a Fellow of the American Psychological Association, the American Psychological Society, the Western Psychological Association, and the Society for Personality and Social Psychology. He has served on many review panels for the National Institutes of Health, advisor to the White House and Surgeon General on substance abuse issues and served as advisor to the UN Office on Drugs and Crime and the US State Department (INL), the Colombo Plan, and CICAD of the OAS.

Webinars and online events delivered and hosted by the International Society of Substance Use Professionals (ISSUP) are provided for informational purposes only. They are educational in nature and do not constitute medical advice, diagnosis or treatment.