Abuja, Nigeria,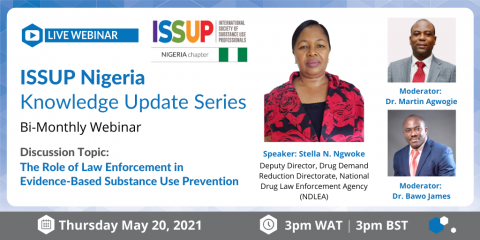 ISSUP Nigeria are pleased to invite you the next Webinar in their Bi-Monthly Knowledge Update Series. This Webinar will focus on 'The Role of Law Enforcement in Evidence-Based Substance Use Prevention'.
Time: 3pm Nigeria / 3pm UK
Learning Outcomes:
Highlight the primary objectives of substance use prevention and public health responses.
Highlight the barriers to prevention interventions/public health responses by the law enforcement. 
Highlight the critical roles of law enforcement in substance use prevention.
Learn about some law enforcement practices that can support public health practices.
Presenter: 
Stella N. Ngwoke
Deputy Director, Drug Demand Reduction Directorate, National Drug Law Enforcement Agency (NDLEA)
Mrs. Ngwoke joined the National Drug Law Enforcement Agency (NDLEA) in 1995. She served the Agency in different capacities as a Drug Demand Reduction Expert, working with different key populations. She is presently the Deputy Director, Drug Demand Reduction Directorate of the Agency.  She holds M.Sc. in Clinical Psychology and B.Sc. (Hons) degree in Psychology both obtained from the University of Nigeria, Nsukka in 1995 and 1988 respectively.
She is a Master Trainer in TREATNET Volume A package (Screening, Assessment and Treatment Planning), National trainer in Universal Prevention Curriculum, UPC (Core and school tracks) and a Master trainer in Drug Prevention Treatment and Care (DPTC), a UNODC developed sensitization package for Nigeria, conducting training on Drug Sensitization for different key populations. 
She is a member of the National technical working group that developed the National Guidelines on Treatment of Substance Use Disorder in Nigeria, and the Quality Assurance standards. She is also a member of the National Technical Working Group monitoring the implementation of the Unplugged school-based Prevention program in Nigeria. Mrs. Ngwoke is currently Nigeria's focal point in West Africa Epidemiological Network on Drug use, WENDU.
Mrs. Ngwoke had represented Nigeria and made presentations in various international fora in the area of Drug Demand Reduction prominent among which are: the Open-ended Inter-Governmental Experts Working Group on Drug Demand Reduction in Vienna in September, 2008, International Scientific Consultation on Prevention of Drug Use and Treatment of Drug Use Disorders, Vienna, in December, 2015, and the African Union Continental Consultation on Drug Demand Reduction held in Cape Town, in 2016 and in Tunis, in 2017, and Nairobi Kenya in 2018, Mauritius 2019, Thailand 2020.  She is a member, International Society of Substance Use Prevention and Treatment Professionals, ISSUP (Global and Nigeria National Chapter).
Mrs. Ngwoke is currently participating in a course on Media-Based Prevention Certificate Program by Claremont Graduate University, United States of America.
Moderators:
Dr. Martin O. Agwogie
National President, ISSUP Nigeria Chapter 
Dr. Bawo O. James
Publicity Secretary/Mobilization ISSUP Nigeria Chapter