Abuja, Nigeria,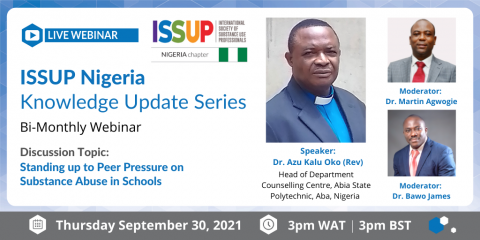 ISSUP Nigeria would like to invite you to attend the next Bi-Monthly Webinar in their Knowledge Update Series. This Webinar will focus on Standing up to Peer Pressure on Substance Abuse in Schools.
Time: 3pm Nigeria Time / 3pm UK Time
Learning Outcomes:
Learn about peer pressure with examples
Highlight social and psychological roots of peer pressure
Highlight the relationship between peer pressure and substance abuse
Learn about professional techniques of peer pressure reversal in substance abuse
Learn about qualities of authoritative parenthood that promotes peer pressure reversal in substance abuse
Presenter: Dr. Azu Kalu Oko (Rev)
Dr. Oko is the secretary of Abia state branch of ISSUP Nigeria Chapter. He was ordained in 1991 by the Assemblies of God Church Nigeria as a Reverend. Motivated by the desire to serve his congregation better, he obtained a doctorate degree in Counseling Psychology from Abia State University, Uturu Nigeria in 2007. He belongs to several professional associations namely Counseling Association of Nigeria (Mcasson); Fellow of Tertiary Counsellors forum of Nigeria (FTCFN); fellow Institute of Industrial administration (FIIA) and member International Society of Substance Use Prevention and Treatment Professionals (ISSUP). He is a senior lecturer and counselling psychologist /therapist in drug education with over 17 years of experience at Life Circle Educational and Counseling Centre, Aba Abia State, Nigeria. A counseling outfit registered with the corporate affairs commission in 2003 and dedicated to drug education, research, counseling and therapy.
He has served as part time lecturer in many colleges of education and universities and as an extension program Consultant to Institute of Management and Technology, Enugu (2004-2007). He has published 9 books on religion and Counseling Psychology (four of which are currently in use as textbooks in tertiary institutions); contributed 9 book chapters to joint publications, published 14 academic papers in national and international journals, and 21 presentations at national and international conferences. He is currently serving as a senior lecturer and HOD of Abia State Polytechnic Counselling Centre since 2010.
Moderators:
Dr. Martin O. Agwogie
National President, ISSUP Nigeria Chapter 
Dr. Bawo O. James
Publicity Secretary/Mobilization ISSUP Nigeria Chapter