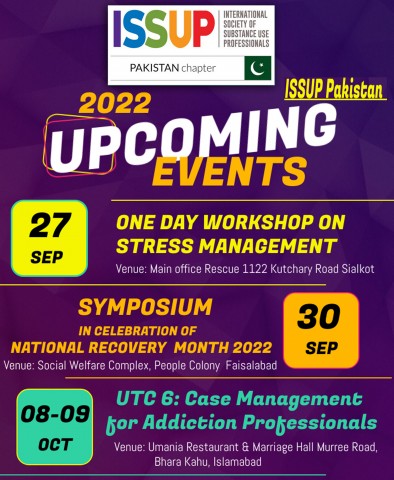 01- One Day Workshop On Stress Management
27 September 2022 
Venue: Main Office Rescue 1122 Kutchary Road Sialkot
02- In celebration of National Recovery Month 2022
Symposium 
Changing People's Outlook On Substance Use & Recovery 
"Recovery is for Everyone: Every Person. Every Family. Every Community. 
30 September 2022
Organized by: ISSUP Pakistan, Social Welfare Department Govt of Punjab
M A Jinnah Foundation 
Venue: Social Welfare complex, Peoples Colony, Faisalabad
03- UTC 6: Case Management for Addiction Professionals
The skill-based course provides an overview of case management in substance use disorder treatment and skills practice in case management functions.