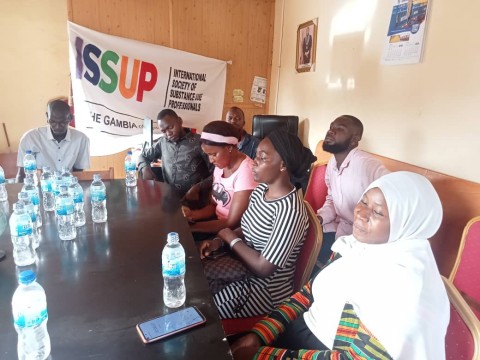 As part of its day's long event celebrating the International Day Against Drug Abuse and Illicit Trafficking also referred to as World Drug Day on Sunday, June 26th, 2022, the ISSUP Gambia National Chapter in collaboration with the Support. Don't Punish Campaign conducted an evening workshop on the theme "Addressing drug challenges in health and humanitarian crisis."
In her keynote address to members and other stakeholders, Ms. Amie Cham, Youth President of the ISSUP Gambia National Chapter said it was important to take note of the challenges faced by people in conflict areas in terms of drug use especially when confronted with a humanitarian catastrophe. Cham called for the need to engage people in conflict zones so as to protect them from drug abuse that may arise as a result of the trauma they are faced with.
While sounding the alarm about the harmful effects of drugs and the need to set up preventative measures to protect vulnerable groups, especially in conflict areas, Cham reminded the audience that drugs kill people and as such, there is the need to engage in regular information awareness campaigns to sensitize families and communities on the drug-related risks that their communities are faced with.
While observing the need for the ISSUP Gambia National Chapter to expand its school-based intervention efforts, Ms. Cham expressed alarm at the rate of drug consumption by the younger generation. She also noted her frustration at the resilience of the retail drug networks and the ease at which some controlled substances such as marijuana are readily available on the streets.
Cham further told the workshop that so many parents do not know that their children can easily lay their hands on marijuana while on their way to school or outside the home environment.
"This is alarming. We must not allow the safety and sanctity of our neighborhoods to be violated by the actions of a few people who want to make a quick buck by introducing our kids to drugs as a way of expanding their consumer base."  Madam Cham noted.
In her presentation on the role of community coalitions in fighting drug abuse, Ms. Mariama Bangoura, The Treasurer of the ISSUP Gambia National Chapter advised members to popularize the ideas of the organization in their neighborhoods. She tasked members to engage their communities and to see to ensure that preventative strategies are adopted to help the attainment of drug demand reduction throughout the country.
 The forum which was moderated by Ms. Elisa Mendy, the Assistant General Secretary of the ISSUP Gambia National Chapter attracted members, partners, and other high-ranking officials of the organization.