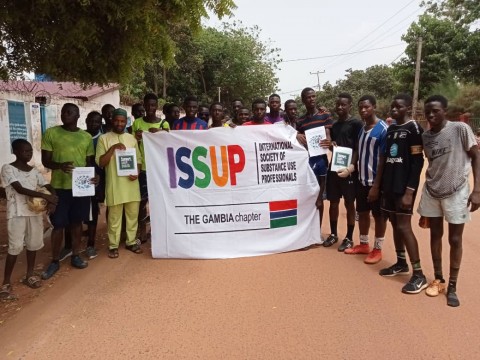 The ISSUP Gambia National Chapter joined the rest of the world on Sunday, June 26th, 2022 to celebrate the International Day Against Drug Abuse and Illicit Trafficking also referred to as World Drug Day in grand style.  
With support from Support. Don't Punish Campaign, ISSUP the Gambia kicked off activities marking the 2022 Global Day of Action with a mini-football tournament at the Bakoteh Proper Lower Basic School. Before taking the official kick signaling the start of the football tournament, Mr. Alasana Drammeh, the Executive Director of ISSUP Gambia reminded the gathering of football players and their supporters that athletes and people in sports, in general, should stay away from drugs. This, he said, is because drugs have been found to destroy the careers of many prospective players and athletes.
Mr. Drammeh also encouraged those gathered to build strategies around sustainable alternatives geared towards promoting harm reduction.  Drammeh further called for transformative and innovative ideas that are people-centered and meant to benefit the health and well-being of the communities of Bakoteh, Dippa Kunda, Manjai Kunda, and the wider society. Mr. Drammeh also used the occasion to inform his audience that the 2022 Global Day of Action is meant to remind communities that there is a world beyond addiction and as such, he called for concerted efforts to encourage the youth to stay away from drug abuse.
Four local teams from Dippa Kunda, Manjai, Bakoteh Housing Estate, and Bakoteh village participated in the junior and senior ISSUP Gambia Sports Tournament. The opening game saw Rising Stars of Dippa Kunda pitted with Talibubess of Manjai.   Rising stars trashed their opponents of the senior category after an intensive 90 minutes of play that ended in 2-1.
The second match saw Bakoteh United face off with their neighboring Estate FC in a neighborhood derby that was only adjudicated with a penalty shot out as the 60 minutes of full-time play ended in a goalless draw.  Whilst the Estate FC were the favorites going into the game, the Bakoteh United goalkeeper surprised spectators with two resounding saves that put his side on the top with a 4-3 win. All teams were awarded varying cash prizes for their participation in the tournament.
A procession followed the football event in the streets of Bakoteh and Bakoteh Housing Estate to popularize World Drug Day. Marchers interacted with pedestrians and motorists and shared with them information on the dangers of drug abuse and the need for families and communities to engage in preventative strategies to protect against the scourge of drug abuse.
Present at the football event and the march past was Mr. Mamudou Jallow, the General Secretary of the ISSUP Gambia National Chapter, and other executive and general members of the organization.