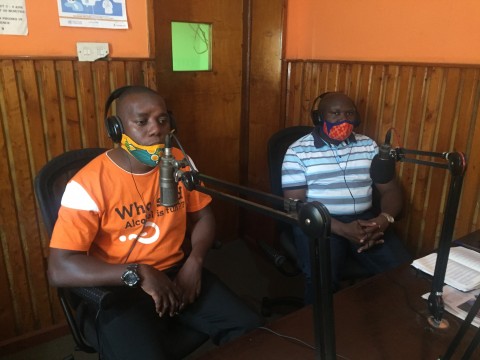 UGANDA YOUTH DEVELOPMENT LINK
Alcohol Harm Prevention Project
Radio Talk Show Report
Discussion Topic: Situation analysis of Alcohol abuse among young during the COVID 19 lock down
Station: Tiger FM 102.5 frequency  located in Nansana Municipality
Date:11th June 2020; 9:00AM to 10:00AM         
Guests: Mr. Mutaawe Rogers; Senior Programme Manager & Mr. Lubega Andrew; Project Officer
Objectives:
To discuss the situation of alcohol abuse among young people during the COVID 19 lock down
To share experiences about the effects of risky behaviours among youths in Uganda.
To offer solutions to address the challenges of alcohol use that affect youths.
To share the way forward towards supporting the youths during this "new normal" in Uganda
Background information
This is a morning flagship programme conducted in the local language Luganda on Tiger FM. The radio set aside every Thursday to discuss key salient issues that concern health of people in the community hence the topic of the day.
Summary of the proceedings
The moderator asked Mr. Mutaawe to define alcohol use and abuse. In his submission, Mr. Mutaawe said that alcohol is mainly composed on methanol and is a socially acceptable in society. However, many people and especially children and young people are increasingly misusing the alcohol and are taking it daily in uncontrolled amounts which has led to addictions and dependence. Addictions are mainly a result of peer pressure, stress, family environment and poverty. He said that children as young as 14 years have been taken to Butabika for treatment which is a worrying situation for the country and that about 20% of cases in hospital have alcohol related problems.
Mr. Lubega on the other hand said that field work experience of UYDEL had showed that young people were increasingly getting hooked to alcohol during the lock down.  This is mainly due to lack of engagement in productive activities as many have not been working which left them idle. The availability of alcohol in bars/shops has made it very easy for young people to engage in alcohol consumption in addition to the environment, family and peer pressure. Despite the Presidential directives of closure of all bars, some people are buying a lot of alcohol and storing it in their homes which has exacerbated the problems. Alcohol is no ordinary commodity for all people to access on streets, bars, shops and other places.
On the issue of parental guidance, Mr. Mutaawe noted that many parents are busy working leaving little or no time for children at home. In due process children lack role models and end up belonging to bad peer groups. Likewise, some parents drink at home and also leave alcohol in refrigerators which pre disposes children to alcohol consumption at an early age. He called on the parents to be good role models to their children during these hard times.
Mr. Lubega also highlighted that UYDEL was implementing activities of the Alcohol Harm prevention project that include; follow up the enforcement of the alcohol bylaws; training of NGOs/CBOs in advocacy skills; sensitization meetings with local leaders in the Divisions; conduct community awareness dialogue sessions about the enforcement of the alcohol bylaws in the targeted Divisions; conduct training sessions on harms of alcohol with villagers; awareness raising through music dance and drama shows in the project areas; conduct sensitization meetings with owners of entertainment places, bars, supermarkets in targeted communities; develop and print bylaw materials such as posters, stickers for dissemination in target areas and media talk shows.
Mr. Mutaawe informed the listeners that UYDEL had been serving the most marginalized out of school young people for the last 25 years in Kampala and rural communities. UYDEL provides services to the most at risk populations, street children, slum youth through life skills education, counselling, vocational skills training and apprenticeship, career guidance, and psychosocial support. He observed that youths are faced with problems of poverty, alcohol and drug abuse, high teenage pregnancies, crime, vulnerabilities to trafficking and commercial sexual exploitation. The youths have been for long been neglected and that's why government programmes now have tended to target them more especially the youth livelihood program. He encouraged youths to be patient and establish viable business ventures that are profitable and legal. He encouraged youths to always look out for opportunities basing on where they stay. For example he informed them to think creatively during this lock down and probably engage in new viable employment opportunities within their communities to avoid the challenges of unemployment.
John Paul from Vision High school Kawempe thanked the guests for the insightful information. He noted that government gets taxes from alcohol and this makes it difficult to curb alcohol abuse. He also wondered why Police doesn't enforce the drug law yet many youths consume these illicit substances from known places.
A gentleman by the names "Small eye" from Semuto urged government to ban cheap alcohol to promote a generation free from alcohol related harm.
Another caller from Kyebando stated that government is to blame for increased alcohol use because it has not help the youths   and they have lost hope.
Another caller from Kikandwa wanted to know how UYDEL helps those trainees that graduate from vocational skills training.
Mr. Mutaawe said that police have the duty to arrest people who break the law by using drugs and abusing alcohol. He urged the community leaders to regularly engage the police to do their work. He also noted that government may not ban alcohol now but advocacy for alcohol regulation shall continue to ensure that the law and policy promote public health.
Mr. Lubega in his response urged the youths to be creative and engage in viable economic activities other than waiting for support from government. He also informed the listeners that upon completion of skills training the UYDEL trainees are linked to potential employers for internship while others are supported with startup tool kits whenever resources are available.
Way forward
Mr. Mutaawe concluded by thanking the host for inviting him to share his experiences with young people and also teaching the youths values of self-reliance and survival to address the unemployment problem. He thanked the station for the opportunity and urged the management to always create time for developmental programs. He urged the young people to stay resilient and calm as the Nation grapples with the lock down.
On the other hand, Mr. Lubega urged the youths to avoid alcohol use and abuse by being in presence of good peer groups, applying life skills, and engage in productive ventures. He noted that UYDEL will continue working closely with Nansana Municipality to develop alcohol bylaws to regulate alcohol sale and consumption. He called upon the business owners to always consider public health and safety as they sale alcohol. They should not sale to minors.