Lisbon, Portugal,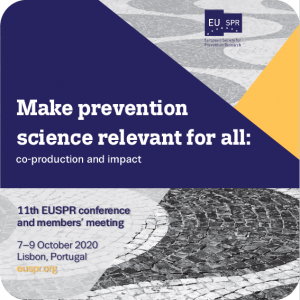 EUSPR are pleased to announce that the 11th EUSPR Conference and Members' Meeting will take place on October 7-9, 2020, in Lisbon, Portugal.
The theme this year is  'Make prevention science relevant for all: co-production and impact' and the keynotes and special sessions will focus on reducing the gap between science and practice in prevention, understanding co-production and the role of policymakers, practitioners, communities and researchers to develop efficacious, sustainable and cost-effectiveness prevention interventions in practice.
The main conference takes place on the 8th and 9th, and pre-conference activities will take place on the 7th.
Due to the current COVID-19 situation, abstract submission for the Eleventh EUSPR Conference will be extended until the 1st July 2020.