Washington, D.C., United States,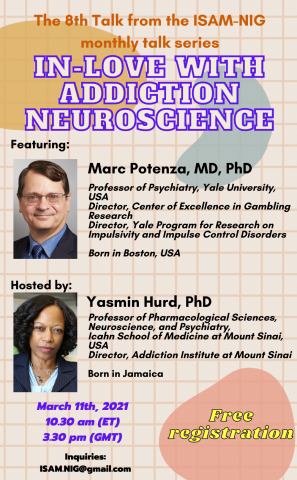 We are delighted to inform you that the 8th talk from the "In-love with Addiction Neuroscience" talk series is taking place on Thursday, March 11th, 2021,
10:30 am - 12 pm  (ET),  by Prof Marc Potenza (Yale School of Medicine, USA) and hosted by Prof Yasmin Hurd (Icahn School of Medicine at Mount Sinai, USA)  Local Time Converter 
As you may know, in this talk series, addiction neuroscientists from across the world share their personal stories/experiences on the beauty of addiction neuroscience and how/why they have decided to invest their scientific life in this field. We hope that this talk series would encourage and support a new generation of young and passionate addiction neuroscientists in different countries to revolutionize the field of addiction medicine.
Watch the full-recorded videos of our past seven talks on our YouTube channel.