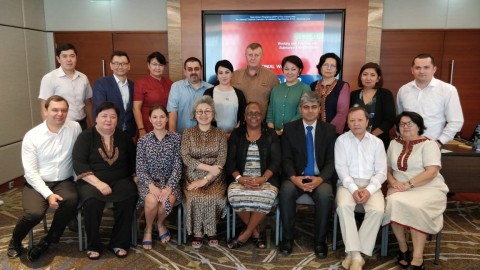 From 23-31 July 2019, a team of master trainers from Central Asia attended the Regional Training of Trainers for Central Asia held in Dubai, United Arab Emirates.
The training was organized by Colombo Plan Drug Advisory Programme (DAP) within the framework of UNODC joint capacity building activity with Colombo Plan.
There were 14 regional master trainers from five Central Asia countries trained on the two following Advanced UTC courses:
Course 14: Working with Families with Substance Use Disorders (SUD)
Course 17: Case Management Skills and Practices
Course 14 presented an overview of issues related to substance use in the context of the family and provided participants with an understanding of the interventions that can be carried out with families affected by SUD.
Course 17 provided participants with an overview of the definitions, major functions and case management practices within the substance use disorders continuum of care as well as an understanding of the roles, skills and competencies of case managers
This workshop prepared regional master trainers  who would be responsible for conducting regional training on selected courses of Advanced Level UTC training package for the team of national trainers from Central Asia to be organized by UNODC.
Country
United Arab Emirates