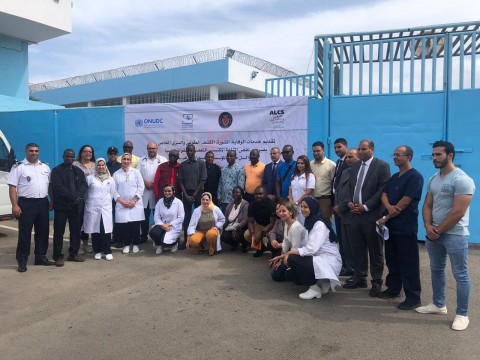 From 6 to 12 October 2019, as part of the UNODC - PTRS / GLOK32 activities to guide the introduction of assisted pharmacological treatment of opioid dependence, 10 representatives, policy makers and treatment experts, and 2 psychiatrists from Côte d'Ivoire, convened at a study visit in Morocco to improve knowledge of high-level experts in addiction and policy measures for treating opioid dependence. The visit was essential to guide treatment and care services in Côte d'Ivoire with specific focus on patients with opioid addiction.
The study visit began with a meeting with the Ministry of Health in Rabat, followed by a visit to treatment centers in Tangiers, Hasnouna, in the centre of resource and training (CRF), and field visits with outreach teams and finally, the methadone program at Tetouan prison.
Participants in the study visit formed an advocacy team aimed at improving access to medication and treatment services based on evidence and assisted pharmacological treatment.
At the end of the last day of the study tour, one of the participants spontaneously shared the following thought: "Every day begins with expectations, but ends with an experience - it's life ... So enjoy the day, every day!!! "