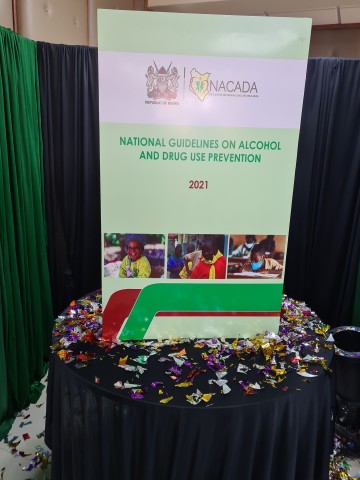 June 26, 2021, Nairobi, Kenya:- As the World commemorated the International Day Against Drug Abuse and Illicit Trafficking (IDADA) on June 26, 2021, Kenya has added another milestone in the journey towards a nation free from alcohol and drug abuse:-The National Guidelines on Drug Use Prevention were launched!
Previously in Kenya, the approach to prevention has been single event activities, development and dissemination of information, education and communication (IEC) materials on myths and the negative effects of alcohol and drug abuse. Now, one of the greatest milestones is the development of the National Guidelines on Alcohol and Drug Use Prevention. The Standards aim to improve the delivery of programs, interventions and policies in Kenya to produce positive outcomes for targeted populations. It accentuates commitment to Evidence-Based Interventions (EBIs) combating alcohol and drug abuse challenges in Kenya.
The document is anchored on the UNODC International Standards on Drug Use Prevention (2015) that summarises the science that underlies evidence-based prevention interventions and policies for preventing or reducing substance use. The Guidelines will provide a framework for state and non-state actors to carry out prevention programs and policies that are applicable to our Kenyan context. 
They aim to establish minimum requirements for conducting effective alcohol and drug use prevention programs within targeted populations such as schools, families, workplaces, communities and media in Kenya.
The objectives of the Standards are to:
Advise on the best practices in prevention interventions and policies;
Ensure professionalism in planning and implementation of prevention interventions;
Provide guidelines and minimum requirements for service providers to ensure recipients of prevention interventions are protected;
Foster the development of a national prevention system that will support children, youth and adults in different settings to lead positive, healthy and safe lifestyles.
It is envisaged for use by all stakeholders in Kenya involved in the development and implementation of alcohol and drug use prevention interventions. These include relevant government institutions, county governments, development partners, Civil Society Organisations (CSOs), Faith-Based Organisations (FBOs), private sector and individuals.
Speaking during the launch, Mr Arthur Osiya, on behalf of the Chief Guest reiterated on the relevance of today's theme "Share Facts on Drugs. Save Lives" called on all stakeholders to ensure that communities are well informed on the availability of drug abuse and the availability of support services. Dr Fayzal Sulliman while delivering the UNODC Executive Director statement congratulated NACADA for this great achievement and called on all stakeholders to implement the guidelines.
A copy of the National Guidelines on Drug Use Prevention (NACADA, 2021) is available here (PDF). 
Attachments