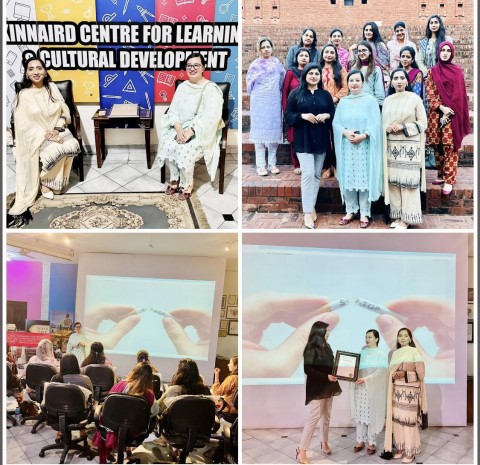 On August 20, 2022, in the Kinnaird Center for Learning and Cultural Development (KCLCD) Lahore, a one-day skills workshop for students of Professional Certification in Clinical Psychology (PCCP) batch II was organized.
Dr. Nazish Idrees, an addiction counsellor from The University of Lahore (UoL) and the representative of Grace International Rehabilitation Center, took the opportunity to appear as a keynote speaker. The resource person was competent in the field. Communicating with an audience of 50+ students, Dr Nazish Idrees shed light on concurrent substance abuse issues including myth, early interventions and management plans that are specifically effective in different cultures.
The spectrum of Substance-induced disorders reflects a medical ailment consisting of clinically significant impairment in health, social function and lack of voluntary control of to use of the substance. It varies in the range of severity, duration and complexity. A United Nations (UN) report unveils an alarming number of substance users in Pakistan, where 78% of males and 22% of females are actively involved in substance use and abuse. These numbers are taking a toll and growing at the rate of 40,000 per year locating Pakistan among the most affected countries for using & abusing various forms of a substance across the globe.
While discussing addiction rehabilitation treatment, the facilitator highlighted the role of the family and focused on the effectiveness of an early intervention to help the person at risk to use the substance. She also shared a shifting trend in treatment services in general health care practice to rehabilitate individuals. The workshop ended with a vote of thanks to the audience by the moderator of the workshop. The hybrid mode was arranged and moderated by Mst. Rukhsana Mehmood, (Course Coordinator for & Senior Clinical Psychologist). The online participants also showed great excitement and engagement during the training. The workshop was aimed to expand upon the "Spectrum of Substance-Induced Disorders and its Management Techniques". 
Best Wishes from:
Dr. Nazish Idrees, PhD., M.S., M.Sc., B.Sc. (Clinical Psychology)
Assistant Professor, Allied Health Sciences, The University of Lahore
Director Operations, Clinical Psychologist, International Grace Rehabilitation Center, Chinar Courts
Certified Dialectical Behavior Therapist
Certified Couple/Family Therapist
Certified Addiction Prevention and Treatment/Recovery Counseling Professional
Certified Neuro-linguistic programming and Hypnotherapist
Certified Diet and Nutritional Therapist
Certified Memory Improvement Therapist
Attachments