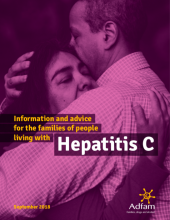 Hepatitis C is a highly infectious blood-borne virus that affects the cells of the liver causing inflammation. Although many people with the virus may have no symptoms at all people can experience jaundice, depression, fatigue, skin problems, stomach pain and loss of appetite. Hepatitis C is associated with drug use, therefore an often overlooked, yet painful component, of hepatitis C can be the stigma that is frequently attached. This can result in prejudice, reduced compassion and feelings of isolation.
Adfam have launched a new resource that provides emotional support and practical advice for the families of people living with hepatitis C or of those who inject drugs, and are therefore at risk of contracting hepatitis C.
The publication offers facts about the virus as well as information about screening and treatment. It also suggests advice on how to support someone with hepatitis C and addresses further concerns that family members may have.