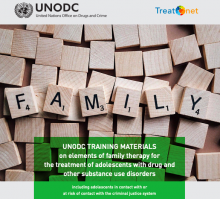 The developmental stage of adolescence involves dramatic biologic, psychological, and behavioural changes.
It is a time where young people start to explore, seek further independence and experiment with new experiences. It is also a time where young people are particularly vulnerable to developing difficulties related to potentially risky behaviour.
Vulnerability to initiating and developing substance use and substance use disorders involves a number of interconnected factors. 
By understanding the potential risk and protective factors, parents, and those working with teenagers can help foster healthy development. 
UNODC, in close collaboration with the World Health Organization (WHO), have developed Treatnet Family – UNODC training materials on elements of family therapy for the treatment of adolescents with substance use disorders, including those in contact with the criminal justice system, as a scalable and skills-based intervention.