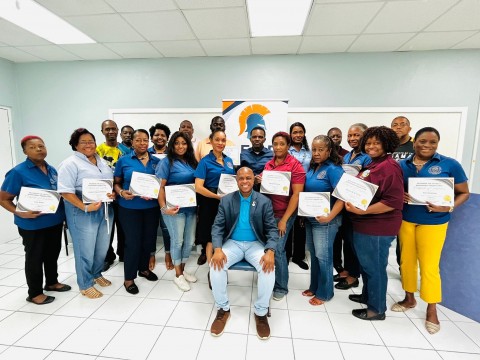 The Universal Prevention Curriculum and the Universal Treatment Curriculum provide training programs for those wishing to develop their professional knowledge, skills, and competence in addressing substance use prevention and delivering treatment services to individuals and their families.
LEAD Institute's Caribbean Correctional Training aims to reduce the significant health, social and economic problems associated with SUDs by building national treatment capacity through training, professionalizing, and expanding the national and regional treatment workforce. Training prepares counselors for professional certification by providing the latest information about SUDs and treatment and facilitating hands-on activities to develop skills and confidence in a relatively new treatment workforce.
On Monday, August 29 through September 2, 2022, Global Master Trainer Troy Clarke I, ICAP Tx I, from The National LEAD Institute, facilitated thirty-two (32) hours of Basic Counseling Skills and Becoming the Totally Responsible Person (TRP®), i.e., Emotional Intelligence, with 21 individuals from the Ministry of Education & Technology Center Managers for its Student Development Section Refocus Centers.
The overall training goal of this training was to equip the participants with the skillset necessary to work with the "At Risk" Population within the educational system who are suspended from various schools throughout New Providence.