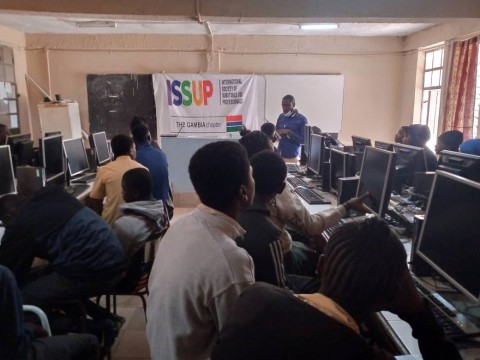 "Drugs are bad, you must not indulge in drugs and other illicit substances." These were the words of Alasana Drammeh, the Executive Director of ISSUP Gambia while addressing a group of students at the Glory Baptist International School on Tuesday March 1st, 2022. Drammeh made the remarks at a workshop organized for about 50 teenage students as part of ISSUP Gambia's program to sensitize school children on crucial preventive strategies to help them stay away from drugs.
Speaking on the usefulness of community coalitions to aid the fight against drug abuse, Drammeh told the students that there is a need for them as young people to serve as focal persons within their families and communities to promote drug demand reduction in the country.
Drammeh further urged the students to form an ISSUP club in their school. Such a club, he noted, will serve as a learning hub to increase their knowledge and awareness of drug related issues and the ways to go about promoting prevention strategies within themselves, their families and communities.
Speaking at the forum, Mamudou Jallow, the General Secretary of ISSUP Gambia told students that they are very crucial in the fight against drug abuse and aiding the drug demand reduction cause championed by the International Society of Substance Use Professionals (ISSUP). Jallow told students that as future leaders, their engagement should start now with a firm commitment to never involve in drugs and to discourage their friends from engaging in the habit too.
Jallow further reminded the students that as young people, it is important that they focus on their education as a way of preparing for the responsibilities that society will eventually bequeath to them. This, he said, will avail them the opportunity to also leave a good legacy that the future generations can emulate.
The interactive forum included a Q&A session during which students asked about strategies in place to treat drug addicts in the country and whether drug addicts can fully recover. In response, Mr. Drammeh told the students that treating drug addiction is the purview of the Ministry of Health and that ISSUP Gambia intends to partner with the relevant stakeholders to ensure that drug prevention, treatment and recovery strategies are in place to help patients battling with addiction. With the proper wholistic intervention strategies and the right familial and communal support, Mr. Drammeh noted that addicts can fully recover and get back to their feet to become productive members of society.
Speaking on behalf of her classmates, Fatoumatta Ndure thanked ISSUP Gambia for sharing its expertise on drug prevention strategies and promised that they will carry the message home to their families and communities to ensure the attainment of drug demand reduction in the country.
ISSUP Gambia intends to spike up similar outreach efforts in schools and communities across the country after its maiden launch slated for later this month.