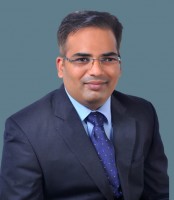 Dr Roshan Bhad is currently Associate Professor of Psychiatry at National Drug Dependence Treatment Centre (NDDTC), All India Institute of Medical Sciences (AIIMS), New Delhi. He is also board of director (Ex-Officio) at International Society of Addiction Medicine (ISAM). He completed his post-graduation in psychiatry (MD), in year 2012 from AIIMS, Delhi, India. and developed an interest in Addiction Medicine 10 years back during his clinical work in community addiction treatment programme and was especially inspired by patients who had dramatic improvement after taking opioid agonist treatment.
He received NIDA-ISAM fellowship award in 2015 and qualified International Certification in Addiction Medicine in the same year. He was recognized as a fellow of ISAM in year 2019. His areas of clinical/research interests are addictive behaviours among adolescents and youth, community addiction psychiatry, consultation liaison addiction psychiatry, drug policy & public health.
Belonging to a developing country, he aspires to improve the outreach of addiction medicine training and research globally and particularly in low- and middle-income countries.
He is presently the Chairperson of ISAM NExT (New Professionals Exploration Training & Education), a committee of 30 energetic and enthusiastic young addiction medicine professionals from 20 countries.
He is active on twitter @drroshansindia
Abstract
Setting up ISAM NExT: A global network of Early Career Addiction Medicine Professionals by International Society of Addiction Medicine
Addiction Medicine is relatively a developing field of Medicine with many of young, enthusiastic professionals opting for a career in this field. However, there are a number of challenges they face in terms of lack of competency-based training due to a lack of trainers. There is low availability of institutes with infrastructure for adequate training. In several countries (particularly low income), young professionals are not able to consider a career in Addiction Medicine due to this limitation. However, even in upper middle and lower middle- income countries there are limited resources and training opportunities for early career professionals. In high income countries, where there is no dearth of experts and infrastructure, early career professionals struggle with mentorship, lack of jobs and choosing a suitable research area. Thus, there is a need for a global platform which will help connect addiction professionals with eminent trainers from different parts of the world, creating opportunities for research as well as fellowships and facilitate mentorship. Establishment ofISAM NExT committee, a global network for early career addiction medicine professionals by International Society of Addiction Medicine (ISAM) is a welcome step in this regard. This symposium will discuss vision and objectives of the committee, its social media presence, mentorship and international networking activities.