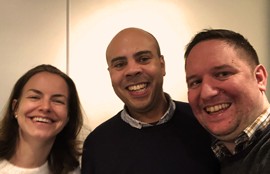 We are pleased to announce that our team has grown! James Harvey, our new Communications and Marketing Officer, joined the ISSUP team last month. 
James has spent the past ten years communicating with decision makers, governments and practitioners worldwide as part of his work with international development clients and some of the world's leading human rights and environmental charities. James brings his background in communications and public engagement to the management of the ISSUP/ICUDDR marketing strategy and will be assuming overall responsibility for the creation and circulation of news and audience development across ISSUP and ICUDDR social channels. You can read more about James here.
Livia, Bilkis and Jack caught up with James in Birmingham last week for a mini-team meeting. It was a great opportunity to exchange ideas about ISSUP communications strategy and to discuss new ways to engage with our community of support and networks. A lot of time was devoted to fine-tuning our 2019-2020 website workplan and ISSUP members can look forward to some exciting new developments and enhancements as we move towards the 6th ISSUP Global Conference being planned for Abu Dhabi in 2021.