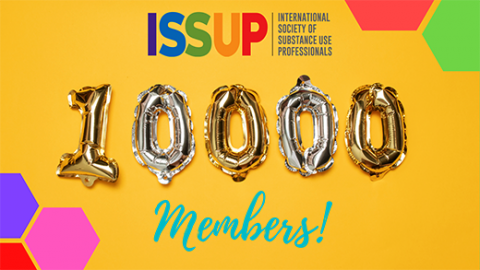 We invite you to celebrate a new milestone with us - this week the ISSUP network grew to over 10,000 individual members worldwide; a record that ISSUP chief executive Joanna Travis Roberts says reflects growing demand for professional networking across the sector and the value of services provided by ISSUP to its members.
"Today, I am honoured to announce that ISSUP has reached an impressive milestone and surpassed 10,000 members – a momentous moment for the network. This shows that professionals at all stages of their careers look for opportunities for professional development, networking and knowledge exchange," Mrs Travis-Roberts said.
"The work of our members at the country level continues one of the major success stories of the past four years, especially the ongoing work behind the creation of ISSUP National Chapters. We are extremely grateful for the dedication and hard work of our members everywhere."
The reach and continuous growth of the ISSUP membership shows how digital tools are enabling professionals everywhere to collaborate and share knowledge more freely. At a time when many other professional bodies are experiencing a decline in membership levels, ISSUP is extremely proud to be bucking the trend.
Thanks to input from our members, the ISSUP Knowledge Share portal now hosts a wealth of evidence-based content and the Networks portal continues to facilitate dialogue, the dissemination of questions, shared learnings and announcements across the network.
Mrs. Travis-Roberts, congratulated all members, partners and supporters, saying:
"ISSUP members are united by a common understanding that drug use is a major international health issue that has to be addressed if we want to save lives, reduce the misery and detriment caused to the user, their families and communities. Together we are stronger and shared knowledge and learning makes us more effective when tackling these complex issues."
ISSUP remains committed to supporting its members and will continue to champion evidence-based, ethical practice and professional accreditation to increase evidence use and knowledge uptake. We are excited about the growth of the ISSUP membership in recent years and the positive outlook this offers the substance use, treatment and recovery sector.
Now a globally recognized body, where people from all countries can come together to exchange information freely, ISSUP looks forward to welcoming many new members and National Chapters into the network.
We would like to express our huge thanks to all our members for the dedication and energy you have given to making ISSUP a lively and thriving global network. Together we have created something unique!
Here are eight reasons to become an ISSUP member:
Network with colleagues
Meet experts working in the field
Access professional development and training
Become part of the national and international prevention and treatment community
Receive a regular Newsletter
Create your personalised professional profile on our website and show affiliation to a professional membership organisation
Receive exclusive ISSUP event benefits
Share knowledge and develop your professional profile
By joining ISSUP, you will be able to access a productive environment for sharing ideas and initiatives. Membership is a great way to develop personal contacts and friendships with colleagues across the world engaged in related areas of work. Apply today!