Webinar, United States,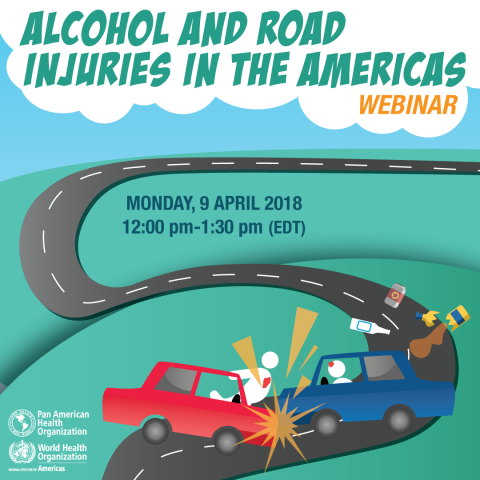 There is ample evidence showing that the harmful use of alcohol is associated with deaths and disability caused by road injuries. The Region of the Americas is of particular interest in relation with alcohol related road injuries as data support policy actions in this area but countries have been slow in implementing them.
Join us on Monday, 9 April 2018, at 12.00 pm (Washington, D.C. time) on the webinar "Alcohol and Road Injuries in the Americas" to explore the links between harmful use of alcohol and deaths and injuries caused by road injuries and discuss how to accelerate the implementation of policy actions to prevent them in the Region of the Americas.
The speakers will be PAHO regional advisors on Alcohol and Road Safety, who will present an overview of the epidemiology of alcohol consumption and alcohol related road injuries in the Americas, as well as the population based policies available to reduce harmful use of alcohol and the status of the implementation of those policies in the Region of the Americas. There will be a particular focus on drink-driving countermeasures. Finally, the president of the Thiago de Moraes Gonzaga Foundation, will give the NGO perspective of ongoing advocacy efforts to reduce alcohol related road injuries by promoting stronger policies in Brazil.
DATE: Monday, 9 April 2018
TIME: 12.00 pm Washington D.C. time (check here the time in your zone)
PLACE: PAHO-HQ, Room C
VIRTUAL LINKS:
REGISTER: http://eepurl.com/do_vPH
AGENDA
12:00 PM – Opening Remarks, facilitated by Maristela Monteiro, Regional Advisor on Alcohol, PAHO.
12:15 PM – Alcohol Epidemiology and Road Injuries in the Americas. Maristela Monteiro, Regional Advisor on Alcohol, PAHO
12:30 PM – Road Safety Policies. Eugenia Rodrigues, Regional Advisor on Road Safety, PAHO
12:45 PM – NGO Efforts to Advocate for Prevention of Alcohol Related Road Injuries. Diza Gonzaga, President of Thiago Gonzaga Foundation, Brazil.
1:00 PM - Questions & Answers
1:30 PM - Closure
Time correspondence
9:00 - Los Angeles
10:00 - San Salvador, Tegucigalpa, San José
11:00 - Bogotá, Mexico City, Lima, Panamá
12:00 - Bridgetown, Havana, Santo Domingo, La Paz
1:00 - Brasilia, Buenos Aires, Santiago de Chile
For other cities, you can calculate in the following link