webinar, United States,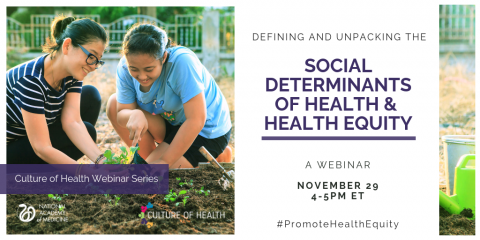 November 29, 2018, 4:00-5:00pm ET
Health equity is crucial and health inequity is costly. All actors in society—residents and community-based organizations, in partnership with businesses, state and local government, anchor and faith-based institutions—have the power to change the narrative and help promote health equity. But where and how can communities begin to unpack the social determinants of health in order to achieve health equity?
Join the NAM  for a one hour webinar where field leaders will explore the meanings of both social determinants of health and health equity and what it means to apply these terms to enact change in the real world.
Register at: https://sin-adiccion.blogspot.com/2018/11/webinar-defining-and-unpacking-social.html