Washington DC, United States,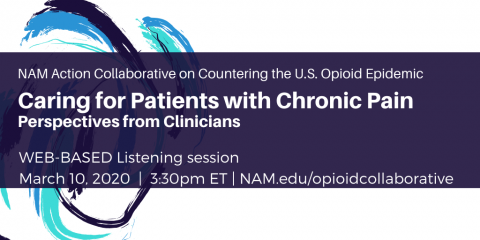 Tuesday, March 10, 2020, 3:00 PM – 5:30 PM EDT (the US)
TO REGISTER NOW, PLEASE CLICK HERE
Caring for Patients with Chronic Pain
The listening session aims to collect input on the state of chronic pain management and bring greater awareness to any intended and unintended consequences of recent changes to opioid prescribing guidelines and related metrics, as they pertain to the delivery, access, and coordination of chronic pain management and care.

This session is structured as a guided discussion with a diverse panel of clinicians, who treat and manage the care of patients with chronic, non-cancer pain. 

The discussion will inform the creation of a person-centered pain management journey map—a visual illustration of a chronic pain management journey—that will serve to accelerate the uptake of a range of pain treatments by outlining approaches to effective communication that lead to strong clinical relationships and optimal quality of life for people with chronic pain. 

There is also an opportunity to contribute to the listening session discussion by providing written responses to the discussion questions via this form. The form will remain available for two weeks following the listening session and is an opportunity to directly inform the work of the NAM's Action Collaborative on Countering the U.S. Opioid Epidemic. We encourage you to share this opportunity for input with your network.