Published by
National Association of Drug Court Professionals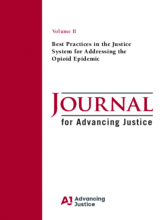 Opioid-related morbidity and mortality in the U.S. has been steadily increasing over the last two decades. In 2017 alone, 2.1 million Americans suffered from opioid use disorder (OUD), and 47,600 died from opioid overdose.
Predictably, the damage done to individuals with OUD involved in the criminal justice system has been even more devastating. Drug overdose is among the leading causes of death for persons reentering society after incarceration, with most of those overdoses attributed to opioids.
The second volume of the Journal for Advancing Justice, "Best Practices in the Justice System for Addressing the Opioid Epidemic," acknowledges some of the very real barriers justice professionals face to deploying clinical best practices in legal settings for justice-involved persons with OUD, but it also addresses the profound, misguided and sometimes institutionalized lack of understanding about medication-assisted treatment (MAT).
This volume aims to:
improve the dialogue between the justice and medical communities and
help promote both good treatment and effective legal protocols in the service of justice-involved persons with OUD.
Attachments