Published by
UNODC Programme Office for Eastern Europe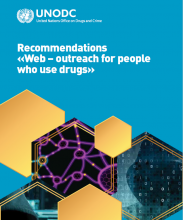 The UNODC Regional Program Office for Eastern Europe (Kiev, Ukraine), in collaboration with the Humanitarian Action Fund (St. Petersburg, Russia), issues recommendations on web outreach for people who use drugs (PWUD), including people who use new psychoactive substances (NPS). Web outreach is a method of establishing contact, counseling, involving and retaining PWUD in harm reduction programs through websites, social networks, instant messengers, specialized forums, including Darknet platforms.
The recommendations include the following sections: "Definition of web outreach work", "Goals and objectives of web outreach", "Tools and principles of web outreach", "Description of the web outreach methodology", etc. The document also contains a number of appendices including "Web outreach performance indicators", "Web outreach worker report form" and "Harm reduction checklists for people who use psychostimulants".
"Over the past decade, diversification has taken place in the drug markets. Expansion of synthetic drugs is noted. Hundreds of new psychoactive substances have been synthesized, a significant proportion of which are psychostimulants", - says Zhannat Kosmukhamedova, head of the UNODC Program Office for Eastern Europe. - "The Darknet continues to be used to buy and sell drugs. The penetration of the drug trade into social media and popular electronic trading platforms suggests that the availability of illicit substances is increasing. Service providers need to respond to these challenges and use all the opportunities they face today to conduct outreach and online harm reduction interventions. "
As noted in the 2020 World Drug Report, the COVID-19 pandemic, which began in 2020, fueled innovation in drug prevention and drug treatment. Many tasks that previously required a personal appeal for help can now be solved via the Internet, by phone or by email. In some countries, the rapid pace of innovation has revolutionized the way people who use drugs can be delivered health care.
"The main objectives of web outreach work are establishing contact with PWUD on the online platforms that they use most often, informing and consulting them on a wide range of issues, redirecting them to appropriate services, collecting and analyzing "field" information, retaining these people in social and medical programs", - says Aleksey Lakhov, Development Director of the Humanitarian Action Fund. - "In the context of the modern drug scene in the EECA region and due to the widespread use of Darknet sites, instant messengers and social networks by people who use drugs, this approach is especially relevant."