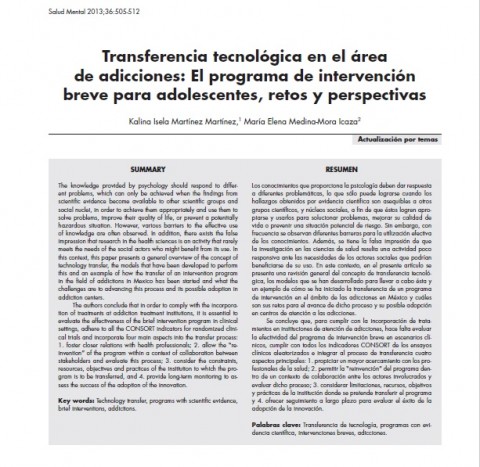 Summary
The knowledge provided by psychology must respond to different problems, which can only be achieved when the findings obtained by scientific evidence are affordable to other scientific groups, and social nuclei, in order for them to achieve appropriate and use to solve problems, improve their quality of life or prevent a potential risk situation. However, different barriers to the effective use of knowledge are often observed. In addition, there is a false impression that health science research is an unresponsive activity in the face of the needs of social actors who could benefit from its use. In this context, this article presents a general review of the concept of technology transfer, the models that have been developed to carry out it and an example of how the transfer of an intervention programme in the field has been initiated addictions in Mexico and what their challenges are for the progress of this process and its possible adoption in addiction care centers.
It is concluded that, in order to comply with the incorporation of treatments in addiction care institutions, it is necessary to evaluate the effectiveness of the short intervention program in clinical scenarios, to comply with all CONSORT indicators of the trials randomized clinicians and integrate four main aspects into the transfer process: 1. foster greater rapprochement with health professionals; 2. allow the "reinvention" of the programme within a context of collaboration between the actors involved and evaluate such a process; 3. consider limitations, resources, objectives and practices of the institution where the program is intended to be transferred and 4. long-term monitoring to assess the success of innovation adoption.
Citation
Martínez Martínez, Kalina Isela, & Medina-Mora Icaza, María Elena. (2013). Transferencia tecnológica en el área de adicciones: El programa de intervención breve para adolescentes, retos y perspectivas. Salud mental, 36(6), 505-512. Recuperado en 20 de noviembre de 2019, de http://www.scielo.org.mx/scielo.php?script=sci_arttext&pid=S0185-33252013000600008&lng=es&tlng=es.