Afghanistan National Drug Use Survey 2015
Submitted by Brian Morales -
20 October 2016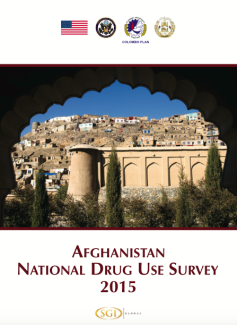 This five year survey is a global model for its rigor – the only national prevalence survey that I know of in the world where questionnaires were combined with 100% toxicology testing of three biological samples per person (hair, urine, saliva) and 10 panels of drugs, resulting in over 30,000 toxicological tests covering 75% of the country's urban centers and 52 villages in most provinces.
The survey also includes: 
1) A special two year study testing the impact of second and third hand opium smoke on children in three Afghan cities.
2) A long-term study to test children in six treatment centers.
3) A special study of drug use in two villages in Kaldar district of Balkh province.
Survey Basics
The National Afghanistan Drug Use Survey combines urban and rural survey data to generate statistically sound drug use rates for the country. 
The world's first countrywide toxicological drug use survey covered 24 provinces, testing 2,757 households.  Experts tested 10,554 Afghans, including 2,711 men, 3,728 women, and 4,110 children.
Afghan drug use generates crime, funds the insurgency, and costs the Afghan government hundreds of millions of dollars in health care costs, crime mitigation, and lost economic productivity.  For perspective, the 23.9 million illicit drug users in the United States, including just 300,000 opiate users, incur annual health care costs around $11 billion and productivity losses worth an estimated $193 billion, according to the National Survey on Drug Use and Health.
Nationwide Findings
Survey results suggest between 2.5 and 2.9 million Afghans use drugs – 11% of the population – and 1.9 and 2.3 million use opiates – about 7% of the population.  Approximately 0.9-1.1 million use cannabis, about half the rate of opioid users.[1]  The survey provides data on use, not addiction or abuse.  Without access to advanced data examining social, environmental, and psychological factors, an estimate of Afghanistan's addiction rate remains impossible. 
The survey found drug use in 31% of all households, including 11% in urban centers and 39% in rural areas.  Among adults, the survey suggested 13% would test positive, including 8% in urban locations and 15% in rural locations.
Rural drug use by household reached as high as 86% among rural villages in Ghor province, while the highest urban rate reached 28% in Zaranj, the capital of Nimroz province.  By population, 49% of residents in rural villages of Ghor Province tested positive.
Children
Nationally, 9% of Afghan children under the age of 14 tested positive for drugs, overwhelmingly opioids, including 2% in urban areas and 11% in rural areas – over 500% higher in these locations.  The data indicates that between 1.0 and 1.2 million children would test positive for one or more drugs, and 0.7-0.8 million would test positive for opioids. 
According to the survey, 90% of children testing positive for opioids are most likely not active drugs users.  Most are probably being provided opioids by adults or exposed to second-hand smoke and third-hand residues in the home.  According to the survey, less than 1% of children are active drug users.
U.S.-Afghan Cooperation
Demonstrating impressive gains in drug treatment, Afghanistan has expanded nationwide capacity from almost no evidence-based treatment in 2007 to servicing 39,200 users across 28 of 34 provinces in 2014.  The U.S. government currently supports 76 drug treatment inpatient, outpatient, and home-based programs.
Afghanistan has initiated a five-year transition plan that gives the government increased ownership and direction over treatment centers as U.S. funding decreases.  Existing centers have proven effective, and Afghanistan boasts results for recovering addicts on par with developed nations. 
U.S.-sponsored work in Afghanistan has pioneered new treatment methods, particularly protocols for child addiction, which have been applied in eight other countries worldwide.
The Way Forward
The overwhelming concentration of services in urban locations, however, restricts access for rural populations.  Afghanistan currently boasts an over-abundance of inpatient centers, despite the fact that outpatient treatment programs have proven to be equally effective.  Converting several inpatient centers to outpatient or village-based centers could reach more people, expanding Afghanistan's overall treatment capacity. 
Stakeholders plan to expand access to rural areas, including through a "village-based" treatment model used in only three other places worldwide.  The model combines pre-existing resources such as village-based doctors, community leaders, and volunteers with treatment personnel from nearby urban areas.  Together they establish temporary camps that offer detoxification and counseling services for users.
Not all users require full-fledged drug treatment protocols.  Some require different types of interventions, and toward that end, prevention can be a powerful tool.  According to U.S. research, every dollar invested in prevention saves ten dollars in treatment, health, and other societal costs.  Evidence-based prevention measures would support social conditions to promote behavioral health and improve the ability of individuals to avoid drug use.  Through a new $4.6 million two-year program, the U.S. government has plans to expand Afghan prevention capacity by training national-level policy makers, school administrators, teachers, and community leaders to deepen their understanding of evidence-based prevention techniques.  The new program will build on successful existing training initiatives for health care professionals by involving new Afghan ministries in drug prevention focused on school, family, media, and socio-economic policy.
[1] The lower figures reflect Afghanistan's official population estimate, while the higher amount represents CIA World Factbook population data.  These numbers include infants, children, and adolescents.  By comparison, the 2012 U.S. National Survey of Drug Use and Health estimates 2.6 percent of the U.S. population use opiates, which includes the illicit use of prescription drugs.