Created by
National Institute on Drug Abuse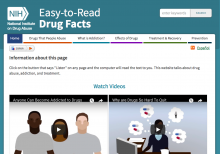 If you are searching for a simple format way to communicate the key issues around drugs then the National Institute on Drug Abuse (NIDA) website may offer a multi-media solution. 
The Easy to Read Drug Facts section of the NIDA website offers animated videos exploring addiction, recovery, treatment, prevention and fact pages on individual substances with text to speech enabled on each page so that the information can be heard aloud. 
This allows the information NIDA has created to be easily communicated to those with low literacy levels or those who may have additional support needs or accessibility requirements. 
Also included in this section of the website are some case studies exploring the personal experience of those who's lives have been affected by drugs. 
This section will be useful in engaging people with low literacy levels in conversations about drug, drug use, addiction and treatment.