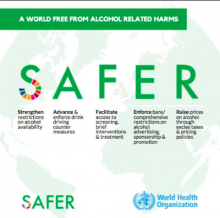 The WHO Global Status Report on Alcohol and Health claims that alcohol consumption contributes to more than 3 million deaths globally every year and is the seventh leading risk factor for premature death and disability.
The World Health Organization has released a new initiative and package called SAFER, which outlines five strategies that can help governments to reduce the harmful use of alcohol and relieve the associated health, social and economic burden. 
The SAFER initiative has been developed with support from multiple partners, civil society organisations and governments. The information contained within the package is scientifically sound and provides clear advice to governments on how to tackle this issue and save lives. 
SAFER stands for:
Strengthen

 restrictions on alcohol availability.

Advance

 and enforce drink-driving countermeasures.

Facilitate

 access to screening, brief interventions, and treatment.

Enforce

 bans or comprehensive restrictions on alcohol advertising, sponsorship, and promotion.

Raise

 prices on alcohol through excise taxes and pricing policies.
Dr Tedros Adhanom Ghebreyesus, Director General of the World Health Organization describes SAFER as, "a package of proven interventions to reduce the harms caused by alcohol, and a new partnership to catalyse global action".