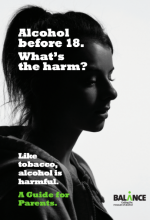 Talking about alcohol with your children can be a complicated and sensitive topic to navigate.
Young people are absorbing information about alcohol from a range of sources within their environment.
Friends, teachers, and family can shape how a young person views drinking.
As parents, you have more influence than you think. You can help your children to avoid alcohol harms by:
learning about alcohol risks for young people,
understanding the myths,
talking to your children about alcohol,
agreeing rules,
being good role models.
Balance's Alcohol Before 18. What's the Harm- A Guide for Parents provides information about alcohol harm and risks as well as advice on how to approach conversations about alcohol with young people and where to turn to get additional help if you are concerned about a young persons alcohol use.