Created by
Chudley Edward Werch, PhD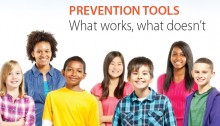 Every substance use prevention specialist should read this free booklet written by Joe Neigel and published by the Washington State Care Authority. 
Prevention Tools is an excellent prevention resource that, as the title indicates, highlights both what works and what doesn't in the prevention of substance use among youth.
As stated in the booklet, "Knowing what works in prevention, and what doesn't, is vital to keeping young people from developing serious and life-long issues with addiction."
While the prevention field has matured and learned from past mistakes, sadly, I still see some of these same mistakes being made over and over again even today. 
Read more: https://preventionpluswellness.com/blogs/news/prevention-tools-what-works-what-doesn-t