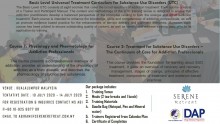 Basic Level Universal Treatment Curriculum for Substance Use Disorders (UTC)
The Basic Level UTC consists of eight courses that cover the broad spectrum of addiction treatment. Each course consists of a Trainer and Participant Manual. The content and methodology of the UTC training series is designed to ensure that addiction practitioners develop a balanced perspective of the principles relating to both the science and art of addiction treatment. Each course is intended to enhance the knowledge, skills and competencies of addiction professionals, as well as promote evidencebased practice for the enhancement of service delivery and treatment outcomes. Moreover, each course has been piloted to ensure outstanding quality of content, as well as identify and address existing gaps prior to its application by training. 
Course 1: Physiology and Pharmacology for Addiction Professionals (20 hours)
This course presents a comprehensive overview of addiction; provides an understanding of the physiology of addiction as a brain disease; and describes the pharmacology of psychoactive substances.
Course 2: Treatment for Substance Use Disorders – The Continuum of Care for Addiction Professionals (33 hours)
This course provides the foundation for learning about SUD treatment. It gives an overview of recovery and recovery management, stages of change, principles of effective treatment, components of treatment and evidence-based practices.