Created by
UNODC and Vienna NGO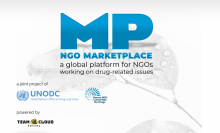 The NGO Marketplace is a joint project of the UNODC Civil Society Team and the Vienna NGO Committee on Drugs and was first launched in 2016.
The NGO Marketplace is an innovative online global platform to assist the international community to find out and learn about NGOs working on drug-related issues.
The NGO Marketplace: 
allows the Member States and other stakeholders to find information about, and connect with, NGOs working on drug policy and providing drug-related services to affected populations 
increases communication and networking of NGOs globally.