Created by
Diego García Huidobro, Iván Muñoz y Catalina Burmeister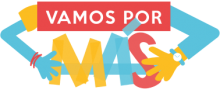 In 2017, a major alliance was generated between the School of Medicine of the Pontifical Catholic University of Chile and the Paréntesis Foundation which was funded by the FONDECYT Project No. 11170834: "Development and Evaluation of a Parenting Intervention to Reduce Youth Alcohol and Tobacco Use".
This project designed the "¡Vamos por Más!" Program. This program is focused on strengthening the relationships of families with sons and daughters between the age of 10 and 14, based on a family that is actively preparing and involved in accompanying their children at this stage, it is possible to prevent risks associated with the exploration and use of substances. This is why the focus of this project is on strengthening family relationships.
To disseminate the materials of this program was developed the website www.programavamospormas.org, where some of the materials are made available, which can be used both at home and in other contexts that wish to support families. This dissemination was achieved through the 2020 "EXPLORA Mental Health: How Science Cares For Us" Project "Dissemination of Family Strengthening Materials of the Program ¡Vamos por Más!".