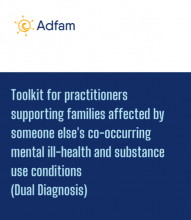 This toolkit has been produced by Adfam and family members affected by the co-occurring conditions of substance use disorders and mental ill-health. It is designed for practitioners who support those caring for a loved one who is having difficulties with their mental health and substance use.
This will include substance use and mental health practitioners, family support workers, housing officers and advocacy practitioners, among others.
The toolkit is intended to offer practitioners some simple but effective tools to help to overcome those barriers and help families to cope more effectively with the challenges they face. It contains suggestions and resources that practitioners can use in their work but is not intended as a substitute for counselling or therapeutic input for families.