Created by
Starlings Community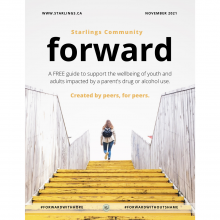 "Forward: A Free guide to support the Wellbeing of Youth and Adults who have been Impacted by a Parent's Drug or Alcohol use." 
The newly released guide, Forward, is the first of its kind. It is intended to increase a youth's understanding of their experiences with a parent's drug or alcohol use while empowering them to use their incredible resilience to move forward with hope and healing.
Included in it are details on stress, the brain, triggers, coping, intergenerational healing, and reconnecting to ourselves, our community, and our culture, with stories of youth and adults with lived experience throughout.
Created by individuals with lived experience of parental addiction, this guide is the first of its kind to incorporate both Western and Indigenous Ways of healing and wellness.
If you or your organization are interested in receiving posters that have an easy-to-use QR code so that youth and adults can access the guide without having to request one, please feel free to reach out and we would be more than happy to email a file, or mail 8 x11 posters. 
www.starlings.ca