Ecolink Institute successfully completes six batches for UTC full course
Submitted by Thomas Scaria -
9 May 2022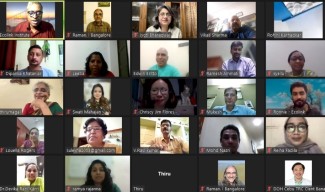 The Ecolink Institute based in India and an approved training provider of the Colombo Plan has successfully completed six (6) international batches for UTC Curriculum 1-8 and initiated to ICAP Credentialing Examination. The students draw from mostly private SUD treatment centers and those practicing as mental health professionals already. Most participants are from professional backgrounds with their qualifications in Psychology, social work or recovery background. 
The Institute has trained more than 250 students from 20 countries with various backgrounds and initiated them to take membership with ISSUP and prepare for the ICAP examination. Currently, the Institute is running its seventh batch. Besides regular courses in English, the Institute has also organized a Tamil course for participants from India, Sri Lanka and Malaysia. 
With an emphasis in integrating UTC into clinical practice, the Institute has also started an online therapy platform for addiction therapy called Addiction Recovery Coach Online (ARCO) and several of its trained students are part of this network.