Update of Canada's Low-Risk Alcohol Drinking Guidelines: Final Report for Public Consultation
Submitted by Rasha Abi Hana -
30 August 2022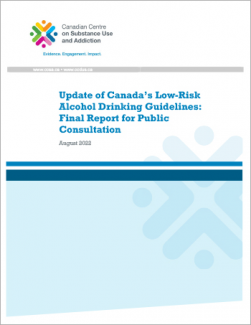 Canada's Low-Risk Alcohol Drinking Guidelines were originally published by CCSA in November 2011 and were the result of the work of alcohol research experts in Canada. Since then, substantial new research on the association between alcohol use and physical, mental and social harms has been completed. Many countries have updated their guidance on drinking to reflect these advancements in what is known about the risks and benefits associated with alcohol consumption.
The report is composed of three documents: the Public Summary, the Technical Summary and the Technical Report. 
The Public Summary is intended for the general public.

The Technical Summary is intended for health organisations, health professionals (e.g., physicians, nurses, counsellors) and people who would like to learn about the update of the LRDGs, its key takeaways, the risks associated with alcohol and implications.

The Technical Report is intended for alcohol scientists, policy makers and healthcare professionals who are interested in understanding the detailed process followed, the types of evidence reviewed and the way the evidence was used to update the LRDGs.