The Canadian Community Epidemiology Network on Drug Use (CCENDU) Bulletin: An Update on Stimulant Use and Related Harms in Canada and the United States
Submitted by Rasha Abi Hana -
21 December 2022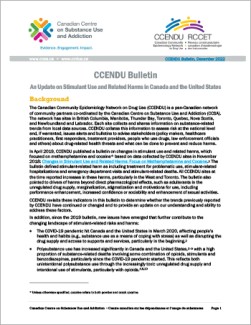 The Canadian Community Epidemiology Network on Drug Use (CCENDU) is a pan-Canadian network of community partners co-ordinated by the Canadian Centre on Substance Use and Addiction (CCSA). The network has sites in British Columbia, Manitoba, Thunder Bay, Toronto, Quebec, Nova Scotia, and Newfoundland and Labrador.
In April 2019, CCENDU published a bulletin on changes in stimulant use and related harms, which focused on methamphetamine and cocaine* based on data collected by CCENDU sites in November 2018: Changes in Stimulant Use and Related Harms: Focus on Methamphetamine and Cocaine.1 The bulletin defined stimulant-related harm as including treatment for problematic use, stimulant-related hospitalisations and emergency department visits and stimulant-related deaths. All CCENDU sites at the time reported increases in these harms, particularly in the West and Toronto. The bulletin also pointed to drivers of harms beyond direct pharmacological effects, such as adulterants in the unregulated drug supply, marginalisation, stigmatisation and motivations for use, including performance enhancement, increased confidence or sociability and enhancement of sexual activities. CCENDU revisits these indicators in this bulletin to determine whether the trends previously reported by CCENDU have continued or changed and to provide an update on our understanding and ability to address these factors.
This bulletin presents an update on the harms and local responses identified by CCENDU in 2019 and expands the scope to the United States for a broader view. This bulletin presents:
1. National data trends since November 2018 in Canada and the United States;
2. Local reports on risks, harms and responses from CCENDU sites in Canada and NDEWS sites in the United States;
3. Discussion and next steps; and
4. Resources.